There are many different ways to make a bowl! Bowls can be as unique as the people making them.
Project Goals
Create a functional form that can be used as intended
Show growing skills in working with clay, as they apply to the methods used (e.g. working with slab; using molds/forms; wheel throwing)
Show willingness to try new methods and techniques
Create a quality finished product, paying special attention to food safety, usability, smoothing, even thickness, and a level bottom
Student Examples
Project Prep
What kind of bowl do you want to make? What will it be used for (e.g. soup, candy, fruit, jewellery)?
What size and shape do you want it? How wide and deep should it be?
What method do you want to use? See some examples below, or use your own.
What kind of bottom will it have (flat, coil foot, tripod, etc.)?
How will you make it interesting (texture, design, add-ons, etc.)? Check out these gorgeous bowls with leaf impressions.
Inspiration
Check out these interesting shapes by Icelandic ceramic artist Kristín Garðarsdóttir:

Tips
Clay shrinks as it dries. If you are using a mold, you need to think carefully about when to remove your clay from it. For example, your bowl will break into pieces if you leave it on a hump mold too long.
Gravity. You need to support the shape of your bowl as it's drying, or it'll sag and flatten. If you are not using a mold, or after you have taken it out of a mold, you can use sponges, balled up newspaper or anything else that will gently support the shape of your bowl. You can support it right-way-up (place supports under the outside edges) or upside-down (place supports inside).
Bowl Methods – Tutorials
Paper Template Bowl
How to make a bowl with a paper template and piece of slab: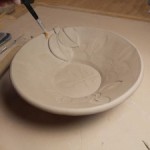 Hump Mold Bowl – Watch from 2:05 – 6:35
Draped Bowl – Watch from 2:00
Slump Mold Bowl – Watch 1:20 to 5:06
Make Your Own Slump Mold
Loosely Formed Slump Mold Bowl with Bucket
Pinch Pot Bowl with Coil Foot