1. Art Tells a Story: From Ancient Civilizations to the European Renaissance (and beyond)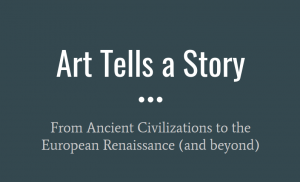 What has significance to you? What stories do you want to tell? Check out these examples of student work – each one has a story behind it:
Make a list of 40 things that have significance to you: 10 people, 10 places, 10 things, 10 ideas. One of your list items might inspire your next art project!
– – – – – – – – – – –
2. Art Captures a Moment: The first rebels of the European art world