Art of a place = Landscape.
Why do Artists Make Landscapes?
Because places matter to us. Whether in the city or in nature, artists capture places that have meaning to them.
Impressionist painter Claude Monet created 250 paintings of water lilies based on a place he loved – his garden at home. It was the main focus of his artwork in the last thirty years of his life.
Georgia O'Keeffe, known as the "Mother of American modernism," moved to New Mexico because she was so inspired by the landscapes. She referred to one of the remote places she painted as "such a beautiful, untouched, lonely-feeling place—part of what I call the Far Away."
Andy Goldsworthy makes art in nature, using nature as the materials. Or, in art terms, "site-specific sculpture and land art situated in natural and urban settings." He then lets nature take its course – in the photo below, the sunlight that illuminates the ice also starts melting it. As he says, "the very thing that brings the work to life is the thing that will cause its death."
And don't forget Bob Ross – who doesn't love happy little trees?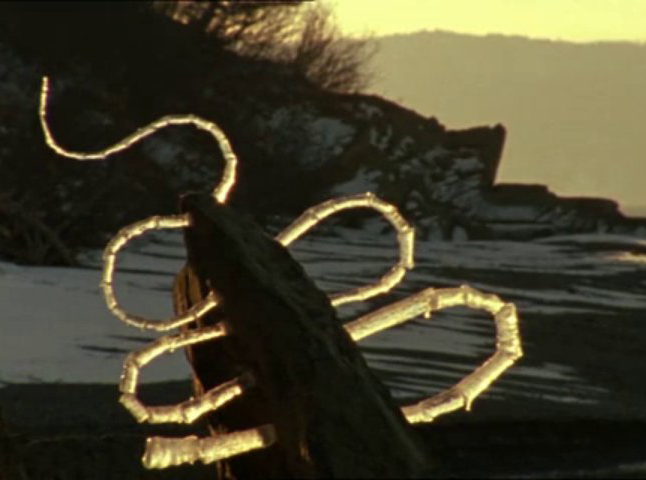 Images (L-R): Claude Monet, Water Lilies, 1906 // Georgia O'Keeffe, Ram's Head White Hollyhock and Little Hills, 1935 // Andy Goldsworthy, from Rivers and Tides, 2001
Student Landscape Projects
Here are some student landscape projects from previous years:
How do Landscapes Tell Stories?
Check out the short video below from MoMA about three artists whose work captures environments that were meaningful to them (Vincent van Gogh, Piet Mondrian, and Gordon Matta-Clark). The piece in this video by van Gogh is a figurative landscape (shows some likeness to a place). Mondrian's piece is conceptual. Matta-Clark's is part site-specific structure, part sculptural installation. All three tell stories about places.
Zaria Forman is a contemporary artist who creates massive, awe-inspiring soft pastel drawings of places impacted by climate change. Her brief TED talk below explains her inspiration (why these places matter to her, and why she makes art of them), as well as her process, with the backdrop of many of her stunning works. You can view more of her artwork on her website.
Landscape Gallery – Contemporary Artists
Check out some contemporary landscape artists with unique styles:
Practice Activities
If you're looking for skill development activities, there are endless possibilities, and lots of great tutorials online (e.g. how to draw trees, how to paint clouds, etc.). I encourage you to find what works for you. Here's one from me:
Project Prep
Before you start your landscape project, you'll need to answer a few questions:
What will be the subject of your landscape? Why is this place important to you?
What feeling do you want this landscape to convey? How will you do that?
What style of art will you use?
What medium will work best to achieve your goals?
What references do you need? What practice work do you need to do to get ready?
Once you've answered all of these questions, your next step is to fill out a project sheet and come talk to me.
Extras
Work of Art: The Next Great Artist (Season 1, Episode 9 – Natural Talents)
In this episode, the artists are tasked with creating a piece of art inspired by nature, that incorporates elements of nature. These are not your average landscapes! Warning: some mature content