Meet my pal Justin. He wants us to draw his face.
Sketchbook Activity, Part 1
Look carefully to see where features sit on the face, what they are aligned with, etc.
---
Sketchbook Activity, Part 2
Then, clip photos of facial features from magazines (National Geographic and fashion magazines), glue them into your sketchbook, and practice sketching them, focusing on capturing shapes with shadow/light.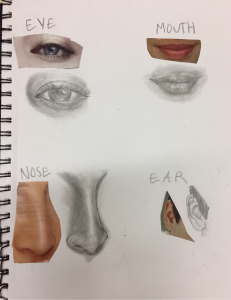 ---
Portrait Project: 5 Hours Minimum
Interpret literally or conceptually! Portraiture tells a story about a person – how could you approach that in a creative way?
---